CONTINUING EDUCATION FOR THE DENTAL PROFESSION IN COLORADO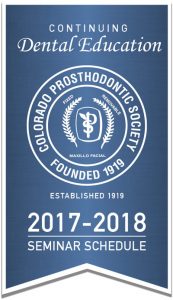 The mission of this society is to provide continuing education for all members in order to increase their skills and knowledge in the delivery of prosthodontics, restorative and implant dentistry for the good of their patients and the profession. Members are committed to the support of the dental profession by sponsoring programs that benefit both members and the dental community as a whole.
TIMES:
All meetings begin at 9 am and adjourn by 4 pm. Registration begins at 8 am.
LOCATION:
DoubleTree by Hilton
3203 Quebec Street
Denver, CO 80207
DoubleTree by Hilton is at Quebec Street and Martin Luther King Blvd. This is a very accessible facility offering free parking, excellent food and friendly service. Find out more on the location page.